The designer discusses his new way of making collections, free from the constraints of sales, gender binaries and the idea of comfort.
There was a period towards the beginning of the pandemic when every conversation in fashion appeared to revolve around its imminent restructure: about the lessons this industry was supposedly learning about slowing down and reducing its output, about enforcing a shift in the cultural calendar and prioritising creative values. "Do you remember quarantine?" asks Marc Jacobs. "Do you remember lockdown, when everybody was going to change? When we were going to go back to showing twice a year and having no more wastage and being mindful and green?"
On the day that we speak, I've just returned from a stint of shows that appeared bigger and more boisterous than ever: resort collections staged across the globe with a gruelling frequency, the calendars of menswear and couture weeks ramped up to a newly frenetic pace, audiences dripping with sweat through one of the hottest European summers on record. What happened, I wonder, to that brief but seemingly potent burst of enthusiasm for building a more environmentally and mentally sustainable future? Marc pauses and, across Zoom, raises an eyebrow: "What happened is what always happens with fashion people. They have a five-second memory."
It's an incisive statement: as an industry, we are spun into a collective hysteria by the idea of what's new and what's next and, more to the point, what's profitable. "Fashion is driven by whatever the market will bear," Marc smiles. "This couldn't all happen if people weren't shopping as much – and the reality is, rich people don't sweat. The soles of their shoes don't wear out. Why would you be afraid of the heat when you can go from your air conditioned limousine to your air-conditioned private plane and spend your life in your air-conditioned home?"
He's right. To pretend otherwise is to be wilfully blinkered to the forces that underpin fashion. But to discuss commerce within the framework of creativity is too often seen as somewhat seedy, as if acknowledging the shadowy infrastructure of this industry strips away its ineffable allure. But those mechanisms are vital to understanding Marc Jacobs' post-pandemic liberation; to how he has found freedom amid fashion's frenzied return. "I have to be honest," he explains. "Doing what I'm doing now – it's partly a choice, and partly a necessity."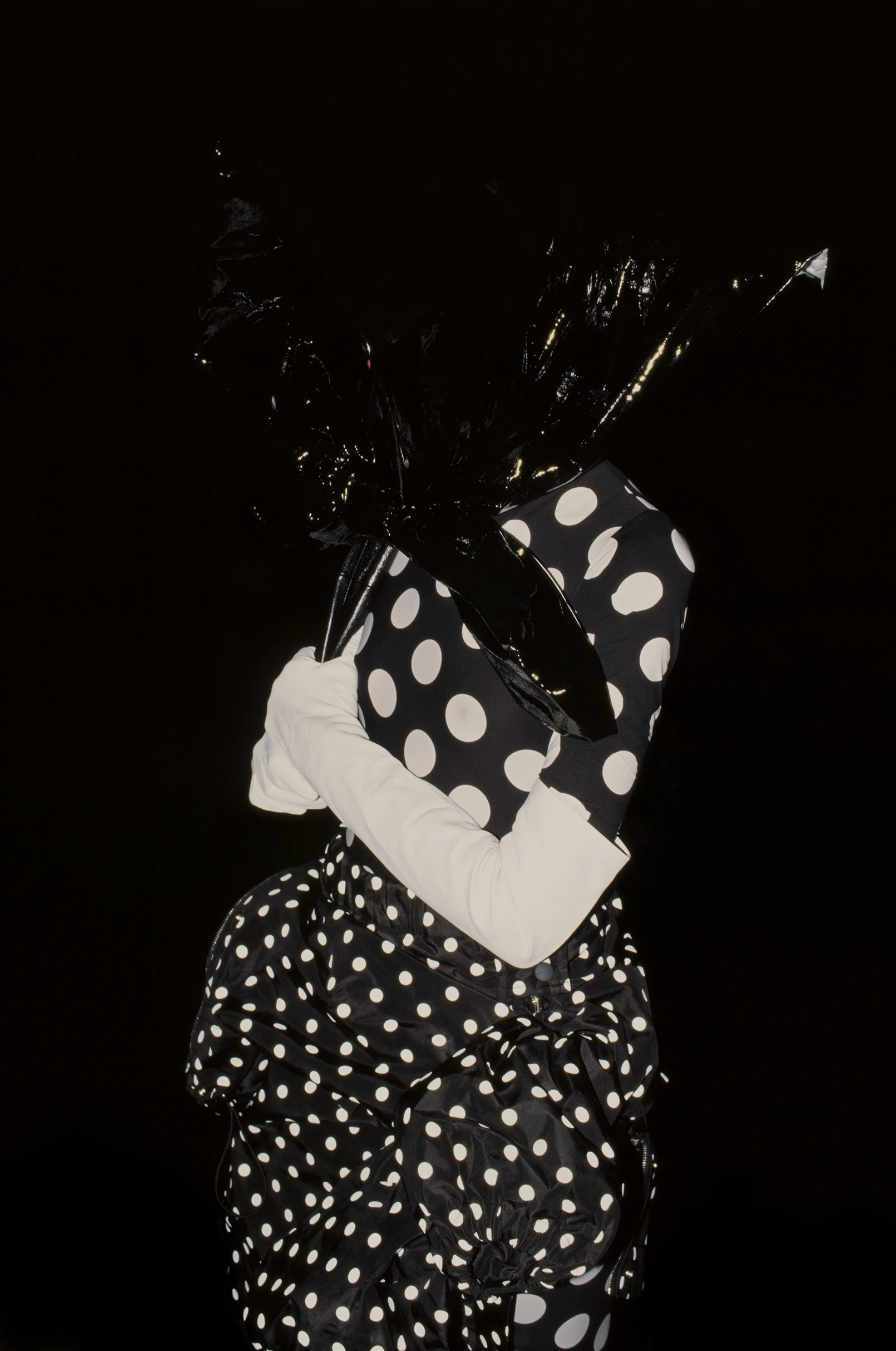 Over the past few years, Marc's business has undergone a transformative restructure: at the beginning of the pandemic, his expansive runway team — the members of whom were responsible for designing and staging the elaborately-conceived productions under his direction – was forcibly, and vastly, downsized. Accordingly, he eschewed the virtual presentations favoured by the rest of the industry, took a break from designing, and instead used the time he spent holed up alone in The Mercer hotel to speak to his shrink multiple times a week and recalibrate. In his words: to "reflect, ruminate, reevaluate, grieve and take a thorough inventory of what works, what doesn't work, what we love, what we are willing to let go of, and what has value, importance and meaning".
When he returned to the runway, it was with a far smaller team but a newly liberated mindset – one which shone through his first collection, shown in New York in July 2021, and which mesmerised the industry. Silhouettes of epic proportions which hybridised reality and fantasy – cocooning Carhartt jackets and protective puffers slowly shed to reveal fluid gowns draped with a 20s elegance but modern ease – were declared the great return of a master showman, and appeared emancipated from the constraints of mass merchandising. As Marc put it to me: "Sometimes at the shows, I hear people say, 'Is this what people want to wear?' But I don't really think like that. I think, 'Is this what fashion people want to see?'" After two years in tracksuits, this was exactly what we were hungry for: the refreshing splendour of fashion for fashion's sake, without an entry-point must-have or a new handbag in sight.
"What we are doing works for us because we sell a lot of something else," explains Marc of how he managed to conceive of a collection outside of commercial parameters. "It's not a new model – in fact, it's the oldest model there is. Even when couture sells, it's the fragrance or the beauty that supports the atelier. It's just the paradigm that the more you can make money in one place, the more you have the possibility to express yourself freely elsewhere."
Instead of being conventionally retailed on shop floors, the pieces Marc presented were available only through a made-to-order service at Bergdorf Goodman. Rather than depending on runway pieces flying off the rails, the profits of the business could instead be sought through the likes of his Tote and Snapshot handbags, while the 2020 launch (and resounding success) of his 90s-meets-Euphoria line Heaven – helmed by Ava Nirui and fronted by the likes of Mena Suvari and Nicki Minaj – allowed a new demographic to buy into the Marc Jacobs universe. The debut of a Monogram line and a doubling-down on perfume allowed the business to expand even further.
"The reality is, rich people don't sweat. The soles of their shoes don't wear out. Why would you be afraid of the heat when you can go from your air conditioned limousine to your air-conditioned private plane and spend your life in your air-conditioned home?" Marc Jacobs
This rearrangement allowed for runway clothes to be designed with boundless creativity and, made to order, without a surplus of fabric or inventory. "We are going back to the idea of something that feels rare and valued," Marc said. "I just think it's not right when you see a beautiful evening dress hanging on a cheap plastic hanger, pressed into a sale rack. It feels sad and wasteful and wrong."
Then, without much of a specific plan as to how things might evolve, six months later, "me and Joseph (Carter, from his design team) and Alastair (McKimm, Marc's collaborator) decided that we were going to make some more clothes." He explains that he never feels inspired until he picks up his tools but, once he did, ten looks evolved: developments on the same visual themes as those which defined the first, often re-appropriating the garments themselves. The paillettes which once formed dresses were slashed and wrapped around the body to become bandage tops; a skirt assembled out of five pairs of cargo pants; a denim jacket transformed into a sculpted stole.
For the first time in Marc's career, these mainline looks were photographed rather than presented on a runway; a radical departure for the master showman. "But it feels as though we're in this period where what feels right is evolving," he explained. "I think there was a very long chapter in my life where I really enjoyed doing something completely different each season. And also, my attention span was shorter – I couldn't get excited unless it was for something new. Now, I don't know if I've changed or if my attitude has changed, but I really like looking at where we are and then seeing how we can continue."
So, in July of this year, and for his second runway collection in this new spirit, Marc chose to continue the approach: pure imagination made manifest at the New York Public Library before a tiny audience. He started once more with the ten looks he'd created previously, re-fitting the skirts and treating the denim, before deciding that what was still most interesting to him was silhouette. He began to draw upon the everyday items that surrounded him – the sickly shades of protective gloves worn by his manicurist, the tank tops and jeans that abound on the streets of New York – and piled them upon his fit model, twisting, shaping and re-draping them into new forms.
They became apparitions that were at once startlingly new but still somehow recognisable; elevated iterations of ubiquity: knitted sweaters padded and tied into bustles; denim jackets treated with precision and wrapped into capes. Formed from canvas and foil and plastic and paper, Marc took mundane materials and made them exceptional, infused with couture-grade drama and attention. "People always used to ask me about things being comfortable – like, a comfortable shoe, or a comfortable armhole," Marc says, rolling his eyes. "But for me, comfort is your relationship to something. I feel quite comfortable in anything, no matter what it looks like, if it feels familiar to me."
That same philosophy inspired the looks that appeared like hospital scrubs: paper-thin sheets of waxed leather, bonded with organza, that paid tribute to the most vital and familiar uniform of the past few years. It was purely a coincidence, Marc says, that his show occurred just days after the Supreme Court overturned Roe v. Wade and that the fetishistic, shining leather dress which opened the show was built so that, in profile, the stomach appeared almost pregnant. He'd been looking at Comme des Garçons' famous "lumps and bumps" collection, and then a Vivienne Westwood documentary he watched made him think about how she had used corsetry as a radical device of liberation. He thought about how "one of the conversations that seems very valid today is how women choose to create their ideal shape" and so had worked with boning and horsehair padding to play with proportions of the body, with his model ending up taking on a slightly unintentional swell. "I wish I could say that it was a Roe v. Wade statement, but it really wasn't; it was more about shape," he says. "Nothing we did had anything to do with those current events but, while we were apart from it in our own little world, we felt the world. We are part of the world. And things do take on a meaning; you can't deny time, or the time we're in." He named his collection Choice because "it seemed like the right word – I wasn't trying to create a political conversation, but I couldn't not reflect what felt imminent and important in that moment."
Marc is not a designer who veers away from the political; he is proudly outspoken about the causes he values – including the rights of everyone to do as they please with their bodies – but in the spirit of what he might have learned during his period of reflection, when there was an awful lot of talk and not a great deal of action, he's clearly decided to do rather than speak. To that point: his models, who he casually refers to as a cast of humans, are dressed in what suits them best rather than in accordance with their gender. Throughout development, there were no gendered discussions around who might wear a certain shoe or a certain garment.
"It really doesn't matter who they are, or how they identify. What matters is finding someone who brings strength to the vision," he says. "I still get this chill when I see evidence of change in a positive direction. And, although we have a lot of fear right now – with Roe v. Wade, with what that might mean for gay marriage, for so many things, I marvel at the freedom and the openness of so many young people I meet. When I read, and when I see the expanding and non-binary definitions in evidence, I just get really excited."
That appears to be Marc's MO: to reflect and amplify the liberation he has discovered, both in fashion and beyond, and to openly invite others to see the world through his lens. "I have an incredible luxury, which is called freedom," he reflects. "That's the luxury we really all want – or at least, that's the luxury we should all really want – and I'm very lucky because we're not being pushed into a different direction through the business. Design is a series of choices, and we have the luxury of being able to choose to do what we do."
It's an exciting new path he's treading, one paved by what appears to be his seemingly limitless imagination – albeit one which remains rooted in reality. As he says: "I'm not an inventor: I don't need to invent anything. I just want to reimagine it."
Credits
---
Photography Jiro Konami
Fashion Alastair McKimm
Hair Duffy at Streeters
Make-up Diane Kendal at Julian Watson Agency
Photography assistance Shimpei Nakagawa
Fashion assistance Madison Matusich, Milton Dixon III and Jermaine Daley
Hair assistance Lukas Tralmer
Make-up assistance Jamal Scott
Casting Samuel Ellis Scheinman and Piergiorgio Del Moro for DMCASTING
Casting assistance Alexandra Antonova and Brandon Contreras
Special thanks Bleeker Digital Solutions
Models Anne Cebula at Elite, Valentine and Sofian Holden at Heroes, Wali Deutsch and Rachel Marx at Women, Jay Pak at Muse, Anyiang Yak at The Society, Alex Consani at IMG
All clothing MARC JACOBS